Thank you everyone for doing business with American Auto Transporters.
Your auto transport reviews, word of mouth referrals, and loyalty contributed to our growth over the past 40+ years.
If you would like to submit an auto transport review, please select the link below:
Thank you
Joe DiCarlo
Another year…another wonderful service. As always, thanks…
Joe DiCarlo
Excellent customer service
Subject: Excellent customer service
To whom it may concern:
Often we find ourselves quick to complain when we receive poor service and usually don't bother acknowledging when we receive excellent service. I would like to thank your company for transporting my Mazda Miata from Canton, MA to Luling, LA. I received my car in only 3.5 days when I was given an estimated time of 5-7 days.
My first contact was with Tom in the office. He was professional and easy to work as well as very assuring of the safe delivery of my car.
The driver and his co-worker were extremely professional and polite. They communicated with me on at least two occasions as to the status of my delivery. On the day of delivery, I watched the driver unload my car with gentle care (although I was nervous). My car arrived in perfect condition.
I would recommended your company to anyone looking for quality customer service.
Connie Dauza
JACK WEISS
Just a quick note to tell you pleased we were the the service your team provided.We dropped the car off on Friday and it arrived Tuesday at Brady's in Fort Myers. Brady met us at our flight on Saturday 1/15 for a short ride to his lot. We were in our car in fives and on the way.
Great job by all involved. See you in April. Stay warm!
JACK WEISS
SCOTT HAMILL
Nick. Just wanted to say how pleased we were with the service to transport my sons escalade from Bellingham Washington to Canton. Mike was great to deal with and Dave the driver was nice to deal with. Tell Mike we will get him tickets to Providene Bruins game or when Zach is in Boston we will try to get him tickets. Thanks again. We will pass on your name to the other hockey players.
SCOTT HAMILL
Vincent Swoyer
I am writing to tell you how impressed I am with your service, and particularly the extra effort and care shown by the driver who delivered my automobile to me this week. The car arrived without any damage, and in addition your operator, Jay Walker, contributed enormously to a successful delivery.
Mr. Walker's attention to communication details, and his ability to be flexible with his schedule last Tuesday were outstanding. He made a complicated delivery schedule very easy for me, and I want you to know that his efforts were much appreciated. My time window in Illinois was at most two days, and Jay went out of his way to accommodate the delivery to my driveway in my absence, before I arrived. He is great to work with, and you should be proud to have a person like him represent you. I am grateful for the job that your company and Jay Walker did for me.
Vincent Swoyer
Roscoe Trimmier, Jr.
I want to add my name to the long list of satisfied customers. My prized possession (2001 Boxster) arrived yesterday on time and on the prearranged schedule with absolutely no damage. Despite my anxiety (from my Army days when auto transport always meant damage and missing parts or accessories) everything went without a hitch. I especially appreciate the personal care and pleasant help from the people in Canton as well as those at Brothers Auto Transport in Fort Lauderdale, who were helpful and kept me informed at every stage of the process. Great work!
Roscoe Trimmier, Jr.
Diane and Bob
Seamless, courteous, on time. Your service was impeccable. We're new customers and plan to use AAT each year for shipping a car to our summer home. Many thanks!
Diane and Bob
Jack and Janet Corkery
Great service! See you next year for shipping it back to Florida.
Jack and Janet Corkery
I look forward to using you next year
Just wanted to inform you that I would like to THANK YOU very much for the great customer service I received, and the PROMISES THAT WERE PROMISED AND TAKEN CARE OF. I look forward to using you next year. Again thank you.
Ken Poore Kirkland, Washington
This note is to thank you for doing such a great job moving my car from near Boston to the Seattle, Washington area. I especially want to call out Nick and Tony's support during an issue on delivery. They took a call well after regular hours, drove to the office to verify some information about my account, and directly involved themselves in resolving my issue. Their support went well above and beyond expectations, and it made the entire experience working with American Auto Transporters very positive.
Thanks again!
Ken Poore Kirkland
Washington
Charlotte Boujicanian
Dear Sir,
For the past ten years your company has handled the transportation of my car to and from Florida. I would like to express my appreciation for your services, scheduled picku-ups (always on time), delivery of car (usually ahead of schedule), and kind and considerate replys to inquiries with a sincere Thank you!
Charlotte Boujicanian - Age 88
Keep doing exactly what you are doing!
I wish that all the business I do business with were as courteous and reliable as yours!!! Keep doing exactly what you are doing!
A quick note of thanks
A quick note of thanks. To say I was a bit nervous about shipping my 2005 Lotus Elise sports car would be an understatement. It's fragile and very low to the ground – a recipe for disaster. Luckily, there was no need for worry. The car arrived on time, and in perfect shape. My brother received the car at his home in Florida and had nothing but great things to say about the driver. He was very impressed with the care he took with the vehicle and his friendly, personable nature. Hats off to the driver, whatever your name is. Thanks again for a job well done.
Thank again
Dear Mr. Hunter,
I wanted to tell you what a wonderful experience it was using your transport company to ship my son's car down to him in Miami, Florida. I have heard many bad stories of how some companies damage vehicles and the cars take weeks to get down there.
It was my first time shipping a car and it was truly a stress free experience using your company. Your driver showed up when he said he would be there, I could use a credit card, did not have to pay in cash and the car got down there when they said it would. With my son going to college in Miami I am sure there will be other times when I need to ship a vehicle. I would not hesitate to use your company again in the future Thank again.
Superior Service
Superior Service. Have used this company 3 times and will again. You can't improve AAT, it's dependable, reliable and very professional.
Please accept my thanks
Dear Mr. Hunter,
It is all very easy for most of us to complain at the least bit of trouble but when a corporation like yours does a great job, they should be commended.
My car was delivered in 3 days from Florida to Framingham, MA. This is faster then I could have DRIVEN if I drove it myself.
Please accept my thanks and you can be sure that I will recommend your company to all my friends.
thank you for your service
hello, i'm very happy with your service, quick responce, and very good driver, would use your service, again, when need to move any cars.
thank you for your service
What can I say but a truly sincere "THANK YOU".
I know that due to the nature of your business, you must get lot's of picky and uncalled for negative comments,or complaints.
Well, this letter isn't one of them. Just the opposite.
I wanted to thank you so much for the service and assistance that went well above and beyond good service.
I have been using American Auto Transporters for several years, and have been quite satisfied. This year, because of an illness and subsequent death in my wife's family, we had to make a decision to change our schedule and leave Florida three weeks before we had planned to. I had a date already set for my car pickup and called to change it. Ritchie took care of everything and the change was made without any hassle. Between the time my car was picked up and we had come back up north, my mother-in-law did pass away and we needed the car. Again I spoke to Ritche and not only had my car arrived (in less than a week ) but he delivered it to us that night ( at ten o'clock ) so we could have it for the funeral etc. the following day.
What can I say but a truly sincere "THANK YOU".
Ladies and Gentlemen
Ladies and Gentlemen:
I am sending this letter because there wasn't enough room on your comment card and my handwriting is hard to read. Thank you for the excellent services in shipping my car to Florida in late December.
The driver really went beyond the call of duty and exceeded my expectations. He suggested a convenient way to pick my car up as the Steamship Authority in Woods Hole, and found it in the snow. (Fortunately, there was only 10 inches on the ground then!)
The people in Sarasota also took many extra steps. They handled a change in my drop-off location without a hitch. They called me to make sure that I was at the house, and even washed the car.
Please let everyone involved know that their hard work and extra effort creates enthusiastic customers.
Charles
Dear Nick:
It is with my profound thanks and appreciation that I acknowledge your consideration and kindness with regard to my inability to have my car available for transport on the scheduled date.
Your attitude and willingness to render service to me on another day convenient to me was consistent with your policy of doing your utmost for your customers.
You certainly try to satisfy everyone.
Your perseverance in this effort is indeed praiseworthy.
We have done business together for about thirteen years and you have never failed to fulfill your obligation satisfactorily.
I wish you good luck and good health in the years ahead.
Charles
Shocket & Dockser
Hi Bob,
Just wanted to let you know how impressed I am with your company's customer service. I would classify it nothing less than superb.
My cars arrived safely and on time as you had indicated. I could not have asked for any better customer service and you were certainly a big help. Although I had never used this type of service before, after talking to you on numerous occasions, I began to feel I definitely made the right decision. Your company most certainly deserves the excellent rating granted by the .
It was certainly a pleasure working with you and if ever in the future I need carrier service, your company will certainly be my company of choice.
Shocket & Dockser
Attorneys at Law
Murray G. Shocket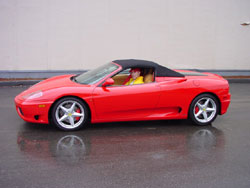 Dear Mr. Hunter:
I would like to take this opportunity to thank you for the prompt and efficient service which you provided to me over this past winter relating to the transportation of two automobiles from Massachusetts to Palm Beach and their subsequent return.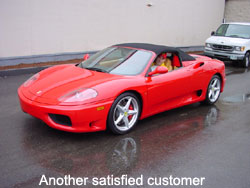 In each instance, the pickup and delivery was handled in an extremely professional manner and in each instance the automobiles were delivered in the same condition in which they were delivered to you. In the case of the Jaguar, which I picked up yesterday, you were kind enough to wait when I was held up by traffic, and the car had been washed to remove any grime and dust as a result of the trip to Massachusetts.
It has been over fifteen years that you have transported vehicles from Massachusetts to Florida and back for me, and I have always been extremely satisfied with your service.
Thanks you. I will be contacting you in six months.
Murray G. Shocket
Suellen Tragakis
Dear Mr. Hunter,
I apologize for the lateness of this note.
However, let me assure you that it is written with utmost sincerity.
I delivered my car to your terminal last December to be shipped to Cape Coral, FL. The car was checked thoroughly by a very courteous manager, and we were gone in less than 20 minutes.
The car left Norwood on Monday afternoon. On Thursday, the day after Christmas, we received a call at our home in Cape Coral from the driver, telling us that he would be there by 3 pm. At 2 PM, my husband went to the parking lot to wait, and there, already parked, was my little red Toyota! The driver had spent Christmas with family in Gainesville and then onto Ft. Meyes/Cape Coral.
I am amazed and very grateful for such excellent service, especially during a holiday week.
It is nice to know that customers are VIP and I will highly recommend your company.
Thank you again!
Suellen Tragakis
Law Office of Charles Schwartz 
Dear Nick:
I thought you would be delighted to hear that a person who I referred to you, called me to thank me for the recommendation. It seems that he delivered his car to Budget Rent A Car, West Palm Beach Airport on Monday, April 7th and received a message from your office on the morning of Wednesday, April 9th that he could pick up his car at the Norwood terminal.
What great service you are performing for the southbound travellers.
It must be rewarding to you with personal satisfaction to be able to assist you customers with such speedy deliveries.
You have not only perfected your operation, but your pleasant manner, cordiality, and friendliness makes it so comforting to all who do business with you.
You validate, with deeds, your motto that "A satisfied customer is out best form of advertising."
Charles Schwartz
Law Office of Charles Schwartz 
Joseph Shorr
Dear Mr. Hunter:
After having had my car transported to and from Florida by your company for the last five years, I feel that I must convey to you, even belatedly, my sincere appreciation for the manner in which American Auto Transporters operates.
The service was prompt and courteous. Without exception, your staff was always responsive to our needs. I found my car delivered to and from Florida satisfactorily handled at all times.
And importantly, it was always a pleasure to deal with you and for this you are to be commended.
Joseph Shorr
Woonsocket, RI 
Mrs. Oscar J. Joye
To whom it may concern:
I want to take this opportunity to thank you for the excellent service which I received when I shipped my car with you from Quincy, MA to Norton Grove, Il.
The service was very prompt and I want you to know that everyone I came in contact with from your firm was efficient and courteous.
Thanks you for this excellent service.
Mrs. Oscar J. Joye
Norton Grove, IL 
Emilie D. Straight
Dear Mr. Hunter,
Once again, this is my fourth year I will entrust my vehicle to your company.
I am alone going to Florida. It is good to know my car will be waiting for me when I arrive at the Ft. Meyers airport.
I have received excellent service on your behalf. Thank you for the past. I know I will be happy again this year.
Emilie D. Straight
Naples Florida 
Richard J. Vail & Irving H. Franklin
Dear Mr. Hunter:
At the recommendation of Mr. Jim Porter of The Country Picker in Intervale, New Hampshire, we shipped out car from Wolfeboro, New Hampshire to Naples, Florida last week.
We wish to convey to you our appreciation for an outstanding job in transporting our car. For many years, we have used several companies to ship our cars, and we have encountered many problems.
We therefore, will contact your company in the spring to ship our car back up to New Hampshire.
Richard J. Vail & Irving H. Franklin
Palm Beach Gardens, FL
Irving H. Franklin
Nick,
I am writing to you in regards to my Lincoln Continental coming from Norwood to Florida.
I delivered the car to your terminal on Monday at 11:15 am. The paperwork and inspection were done very promptly.
I arrived at West Palm Beach on Friday at 5:30. I took the bus over to Budget and my car was there waiting for me, and it was in good condition.
Out of curiosity, I asked the attendant at Budget "When did this car arrive at Budget?" He told me 12:26 PM on Thursday.
This obviously is very good service.
I have been sending my cars back and forth to Florida and the Cape for the last few years through American Auto. I recognize your problem going between April 15 and May 15.
There are more cars than is transportation available.
I know that you and Ruth always do your best, and the purpose of this letter is to tell you that I am pleased with American Auto Transporters.
Irving H. Franklin
Elaine Tesco & Roland H. Parker
Dear Customer Service Manager,
You have been transporting our cars to Florida and back again in the spring. The first car is waiting for us at the Budget lot when we arrive at the airport and we are able to drive to our home in our own car. Our son dropped the second car off to you lot on Friday and on Monday afternoon, it was delivered to us without any problem.
I think it is time for me to say "thank you." Your service has always been good and we took it for granted. However, please know that we appreciate your efficiency and good service.
Elaine Tesco & Roland H. Parker
Studart, Florida
David Blacher
Dear Mr. Hunter:
Someone once said "Perfection is accomplished by carefully attending to many small details."
For ten years we have used your transport service to and from Florida, and for ten years you have hit home runs, never a fumble, never an error. We arrived at our home in Florida the evening of October 22nd and wondered when our automobiles would catch up. The following morning, 8:30 am, we received a call "would it be acceptable to deliver the cars before 10:30 am. Both cars arrived freshly washed.
Regards,
David Blacher
National Society of Professional Engineers
David Blacher
Palm Beach Gardens, FL 
Paul E. Fritzker
Dear Mr. Hunter:
When the author Thomas Wolfe wrote "You Can't Go Home Again" he neglected to factor your firm's expertise into the equation. Twice each year we have entrusted our vehicle to be transported from our home in Weston, MA to our winter home in the bucolic hamlet Punta Gorda Isles on Florida's wet coast. Each time the car arrived on time as promised. Last Friday afternoon, I drove the car to your new facility. The drop-off was not scheduled until this Monday. I was able to accelerate our packing. We were pleased you could accept the car early and send it on its way.
Last night, my caretaker informed me the car arrived. It is in my garage waiting my arrival tomorrow afternoon. We have not inspected the vehicle. I have conviction, based on empirical experience, that I will find it in the same fine condition it was when it was brought to your loading facility.
As most "snowbirds" we have driven down in past years. We have taken the Auto-train in both directions – booking the sleeper. Given that there are two of us (plus a hefty 90+ pound sheep dog) sending our car in advance and flying down makes more sense. You deserve your reputation. I suspect that it is why my friends recommended me to you years ago. We, in turn, recommend you to others.
Paul E. Fritzker
Rabbi Nathan Korff 
Dear Mr. Hunter,
When we arrived in Florida, our car was waiting for us as you promised.
I want you to know that for the many years we have been shipping our car through your company. We have found you the most reliable of our previous companies.
It is heartening to know that the consumer dealing with you can have peace of mind.
Thanks again.
Regards,
Helen Korff
Helen Korff
Samuel Micciche
Samuels Studio/Photography/Graphic Arts Maynard, MA
att: Mr. Nick Hunter,
I would like you to know that your service of transporting my Crown Victoria auto to Hallandale, Florida was great and outstanding. And also likewise to the return to Maynard, MA.
The car was picked up on a Wednesday and we received it the following Monday, and was very much surprised of the reliable and courteous service extended by your company.
Driving a car to Florida for an 80-year-old person is for the birds. We would rather have you do it. Thank you.
P.S. Keep up the excellent service. Also say hi to Ruth (she helped a lot).
Samuel Micciche 
Maynard, MA
John & Mary Conley
Dear Sir:
I want to thank you very much for the great service you gave us with our car transport.
Our car came in perfect condition and right on time.
I've talked to so many of our neighbors who used other transports and had bad experiences.
I feel lucky to have heard of you folks and hope to use you in the future.
John & Mary Conley
Clearwater, Fl.