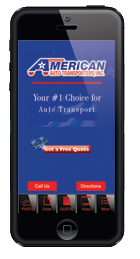 With the American Auto Transporter Mobile App, you can do so many things when you are on the move. It is simple and easy to use for all. You can download this app on the App Store for your Apple Device.
With this new mobile app you can:
Track Your Vehicle with Car Finder and see it where it is in real-time by filling out a very quick form
Receive exclusive offers
Get a Instant Free Quote by filling out our mobile form
Call our office and speak to one of our representatives
Receive directions from your current location
View our latest videos, news, and photo gallery
Access our Facebook page and share your experience right from your device
Read more information about our company and what others experienced by their testimonials
Download the American Auto Transporters, Inc App by clicking on the link below or search "American Auto Transporters" on your device's application store. Enjoy and use our app today!